Cashman Field passes Lights FC debut - February 14th, 2018
Lights FC midfielder Alex Mendoza admitted he wasn't sure what to expect when it came to his team's first audience.
A sellout crowd of 10,387 at Cashman Field surpassed all his expectations.
"I think it was incredible. It motivates you, you know?" Mendoza said. "It was something else. It was something special. We were all just happy to be a part of it."
The Lights were able to create the raucous atmosphere they were seeking at their first preseason game against Major League Soccer's Montreal Impact last Saturday, giving credence to the praise owner Brett Lashbrook heaped on it as a soccer venue.
While the venue has limitations, ones that led to the Las Vegas 51s' new Summerlin stadium, the Lights were able to work around those for a largely successful debut. Cashman Field's smaller concourses aren't as big of an issue in soccer, where the only break in the action comes at halftime.
One of issues the Lights did have last Saturday was getting their sellout crowd through the front gate prior to the scheduled gametime, a problem the team will happily accept. The turf on the field was also uneven at parts, mainly where the basepaths and pitching mound were covered up, but its effect on the game was negligible.
"Overall I think it's a great setup," Mendoza said. "It's a great start (for) the organization."
Captain Alatorre
Defender Marcelo Alatorre wore the captain's armband against Montreal and will again Saturday when the Lights host MLS' Vancouver Whitecaps, coach Jose Luis Sanchez Sola said. Whether the 33-year-old veteran of Mexico's first and second divisions keeps wearing it after that is up to him, Sola said, but he's been able to set an example for the team's younger players.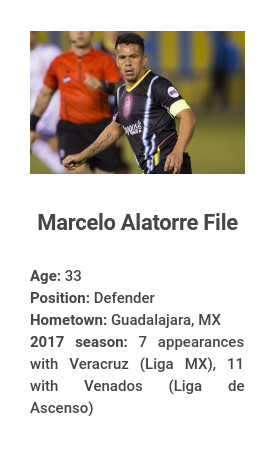 "I'm very surprised by the level of some of these young players like (I) didn't know of like (Lights midfielder) Julian Portugal," Alatorre said.
Seeing Red
Lights goalkeeper Ricardo Ferrino earned a red card in the loss to Montreal, but since it's the preseason he will not be required to sit out Saturday's game.
Ferrino made two saves against the Impact, but in the 68th minute he lost the ball while attempting to get around two defenders and had to commit a foul to avoid giving up an easy goal.
"It is a very thin line between being spectacular and being irresponsible," Sola said.
New arrivals
The Lights have brought in three notable players to camp in the past week, including one who has a history with Sola.
Midfielder Carlos Alvarez, who started against the Impact, was selected second overall in the 2013 MLS SuperDraft by Chivas USA when Sola was coaching the team. Other additions include Liga MX and MLS veteran forward Samuel Ochoa, who spent last season with the United Soccer League's Sacramento Republic, and midfielder Daigo Kobayashi, who was with MLS' New England Revolution from 2014-17.
Contact Ben Gotz at bgotz@reviewjournal.com. Follow @BenSGotz on Twitter.